" If you've always wanted a smaller, lighter and cheaper Segway, then you are going to love Inmotion SCV After trying it out, I think the Inmotion SCV is a winner "
Raymond Wong, device.com
INMOTION SCV makes moving around the job quick and painless
Do you have an expansive business campus or manufacturing site with multiple buildings? Or possibly your place of business just covers a large area, like a refinery, a treatment plant, or a storage facility? Or maybe you build shopping malls or work at one and need a quick way to get from one end of the site to another, quickly and arrive without breaking a sweat?
Whatever your reason for needing a quick, economical way to get around, INMOTION SCV can provide the answer. It was developed to be strong and durable, but at the same time to be easy to maneuver in the tightest of office environments.
At just 35 pounds with an easily disconnected steering column, INMOTION SCV also offers easy portability, so it can be easily transported in the trunk of a car.
Click here for a more complete run-down of all of InMotion SCV's features.
But key among them, at under $3,000, INMOTION SCV is far more economical than other personal transporters on the market. Thinking of purchasing several for key members of your staff? Call us at for quantity pricing.
Here are a few ways the INMOTION SCV is being used to make employees lives a little easier: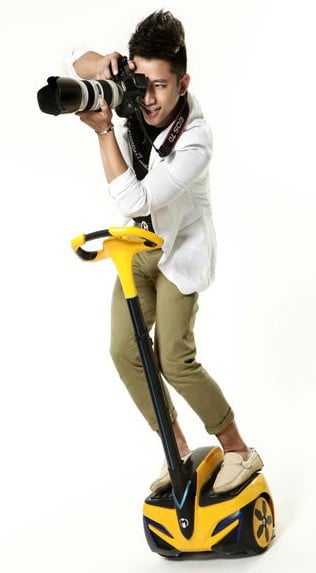 Manufacturers use INMOTION SCV to get quickly across a large production floor.

Storage facilities operators use INMOTION SCV to get from one warehouse to another.
Executives on large business campuses use INMOTION SCV to get around quickly from meeting to meeting
Businesses that provide group activities such as walking tours of downtown areas will love INMOTION SCV.
Sales people get from customer to customer faster increasing sales
Order pickers use the turning shaft for easy hands free order fulfillment
And any other area where employees have a large area to cover in a short time, in a contained area.
Our 100% Money Back, Satisfaction Guarantee
Not sure if INMOTION will be the right fit for your organization? We understand. Personal transporters are something new to the business world. Like you we want to make sure that the INMOTION SCV is right for your business. So when you purchase your first INMOTION we make you this offer. Try it out for 7 days. See how it functions on your site, on your terms. If you don't love it, send it back for a full-refund. We are so confident that you will love the way the INMOTION SCV performs for you and your staff that we make this offer. So you really have nothing to lose in choosing INMOTION SCV. Start your journey by clicking here to buy online.
For more information on INMOTION email us at
info@wheels-inmotion.com today.