INTRODUCING THE NEW SENSOR CONTROLLED VEHICLE.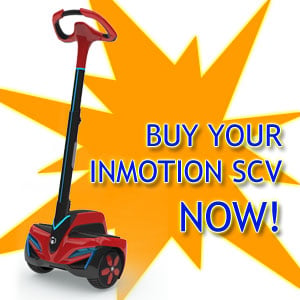 The INMOTION SCV is a smart electric, self balancing sensor controlled vehicle. With instinctive operation and a thrilling drive experience, INMOTION SCV provides you a whole new way of urban commuting and touring. 
Easy Operation
The INMOTION SCV is incredibly easy to operate—most people learn how to ride it in less than ten minutes.
INMOTION SCV is eco-friendly and energy-efficient. The all-electric INMOTION SCV, an emission-free vehicle for urban commuting and touring, efficiently turns kinetic energy into electrical energy every time it goes downhill.
I was able to get up and ride the INMOTION SCV without any training and felt comfortable even without a helmet. One of the cooler parts though was that the INMOTION SCV told me when I was on the vehicle properly. When I got off the vehicle it also told me that I had gotten off correctly as well
Kyle, techfaster.

I can envision collapsing the SCV, dropping it into my truck and taking it out when I'm ready to drive. The vehicle is rated at 3.5 hours of riding time per charge, which is enough for an afternoon in the park
Lance Ulanoff, Mashable.com